Simpler
Redifining the test space
Smarter
Redifining the testing experience
Safer
Safety without sacrificing usability
ElectroPulsing Simulation
Are you interested in doing more than just running a sine wave or finding out the number of cycles to failure? If you are wanting to replicate real life loading conditions for your products, accelerate your product development and get more meaningful results – then read on to find out more about how an ElectroPuls is the perfect platform to help take you one step closer to simulating real life.
X-Y Stage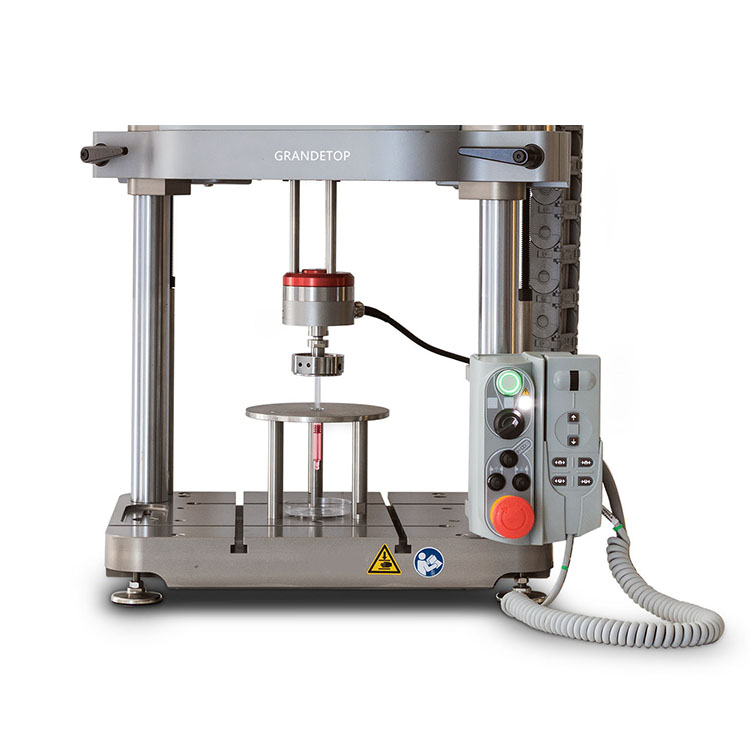 GRANDE's XY Stage Test System is designed for automated multi-site testing of devices and components with an ElectroPulsing test system. This provides a step change when testing multiple specimens or multiple locations on a single specimen. Our fully integrated, turn-key solution works side-by-side with GRANDE's new fatigue software to automate your testing, advance your research and increase your efficiency in the lab.
XY Stage Joystick
The Joystick allows you to control the stage effortless from the test workspace and build new test paths. Log test locations directly from the joystick and change the jog speed to for both coarse and fine adjustment.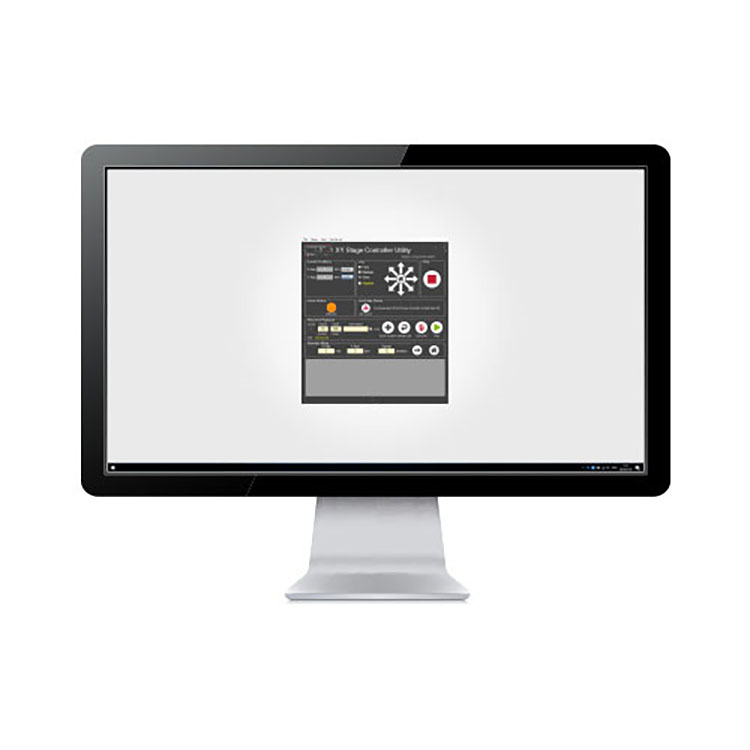 Software (XY Pathfinder) dedicated setup facility to interface with the XY stage when building new motion paths. Save motion paths entered via the joystick and import them directly into Grandetop Software. Advanced motion wizard allows you to build complex and repetitive paths in a fraction of the time.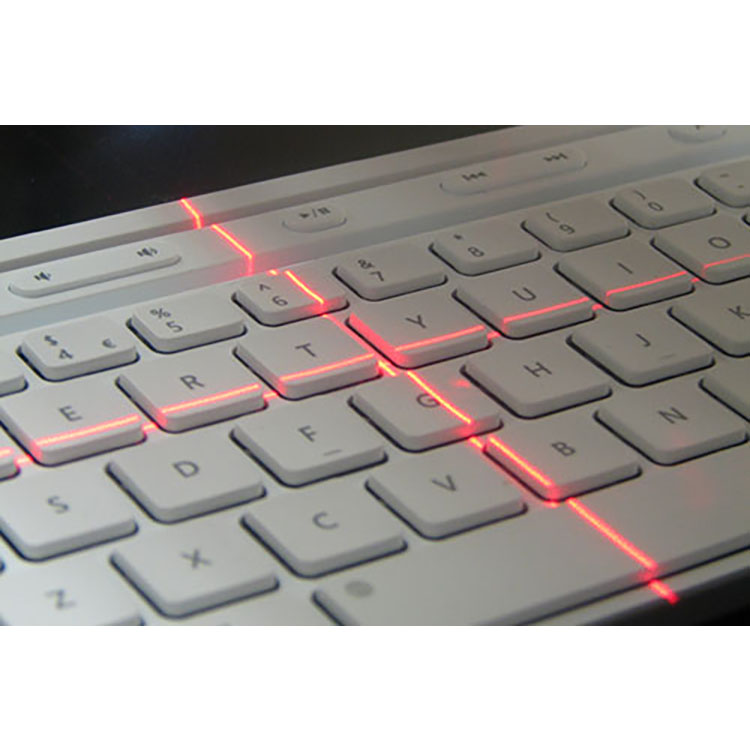 Actuator Laser Sight mounts onto the actuator centrally and projects a laser onto the XY test area to pinpoint the exact test location. The laser crosshair projects directly onto the specimen and allows users to quickly and accurately build motion paths.
The auto-injector is becoming a vital tool for patients and doctors wishing to replace the traditional injection method. However, the manufacturers themselves require lengthy iterations in the design process to determine the spring stiffness required to achieve the required drug delivery time for a given viscosity of drug and diameter of needle. Instron's solution to this challenge bypasses the need to physically test multiple springs by utilizing the ElectroPulsing advanced control capabilities to produce a unique spring simulator.
Simulating the typical gait cycle of a runner on the Electropulsing can help shoe and shoe material manufacturers understand the durability of their designs. Replicating how products will perform in real life is becoming more and more important as competition and demands in the market increase. Traditional methods of shoe simulation use position or load control, but this does not accurately reproduce the loading of a gait cycle. Therefore at Instron, we offer the additional option to run in energy control. The ElectroPuls is able to achieve and maintain a repeatable impact of a fixed energy level over a prolonged number of cycles.
A custom waveform can either be recorded directly from a sample or created to replicate the impact of an actual gait cycle. GRANDETOP software allows users to create and import their own custom waveform in the form of a CSV file. Through this custom waveform tab, customers also have the ability to specify the impact duration.
The Calculations Module, allows for the addition of virtual channels into a test method like energy, velocity, acceleration as well as the traditional transducer channels of position and force.
Advanced Amplitude Control is a module for GRANDETOP Software which when used in combination with calculated or virtual channels, will allow for control of those parameters. The result is that the system will maintain a constant cycle energy applied to the specimen with each impact.
ElectroPulsing Applications
ElectroPuls systems offer incredible versatility in testing solutions in a number of different industries, including biomedical, orthopaedics, consumer electronics, and research institutions. To help you explore the thousands of different customer applications running on ElectroPulsing, we've grouped them in to the following categories: Validation, Simulation, Materials and Universal.
ElectroPulsing systems have been successfully used by many industries to run experiments that result in quick release of products to market in a standardsdriven testing environment. Examples of safety critical applications in the dental and orthopaedic industries include ASTM F543, ISO 72064, ISO 14801, ASTM F1717, and ISO 7209. Common examples of nonbiomedical tests exist in the automotive industry such as engine mounts, plastics and composites. Instron has been updating and evolving ElectroPuls systems and customer services over the last ten years to ensure the highest levels of safety, consistency and efficiency. In addition, Instron offers training by our engineers to ensure that the machines can be used immediately, to their full capability.
Get Started Quickly
GRANDE provides expertise to guide you through the process, from ordering to installation of the systems, with record lead times. Our class leading processes will ensure that you will receive a fully functional system to start your testing when you need it. Our global service and support team, having installed hundreds of systems already, will support you every step of the way, installing, calibrating and training your personnel so that you are ready to test as quickly as possible.
Durability Testing of Hip Implants to ISO 7206-4
Reliable Testing
GRANDE Automatic Test Equipment Limited is a company you can depend on, having already helped many world-class organizations validate products for over a decade. You can be confident that your systems will provide the best performance you can get. Operating under ISO 9001 quality standards and with an extensive list of accreditations, Instron employs a product design philosophy where our customer's data, integrity, safety, and protection of investment are paramount.
Durability Testing of Spinal Constructs to ASTM F1717
Testing Solutions
ISO 7206-4, 7206-6, and 7206-8 Endurance and Fatigue Testing Artifical Hip Implant Prostheses
ASTM F1717 Testing of Spinal Constructs, Static, Fatigue, Torsion Simulation
ISO 14879 Knee Testing: Fatigue of Tibial Trays
ISO 14801 Fatigue Testing of Pre-Angled Endosseous Dental Implants in a Fluid Bath
ASTM F2077 Characterization and Fatigue of Spinal Intervertebral Body Fusion
ASTM F2267 Evaluating Spinal Intervertebral Body Fusion Devices Under Axial
ASTM F543 Axial and Torsion Testing of Bone Screws
ISO 16402 Flexural Testing of Acrylic Resin Cements Used in Orthopaedics
Simulation
Instron understands that it is a challenge to some of our customers to predict how products will behave and change over the years. It is often crucial for researchers to understand and replicate exact forces and motions. ElectroPuls provides you with the capability to do unconventional tests that replicate real life motions and events, as well as simple loading regimes. Let's predict the future together.
Waveform Versatility
ElectroPulsing systems provide you with exceptional capability to simulate the conditions you desire beyond the realms of a simple static or cyclic run. Our systems are able to create complex waveforms, and rapid changes in velocity and acceleration. The combination of both the dynamic performance and control ensures precise feedback.
Impulse Testing of Athletic Footwear
Advanced Control
ElectroPulsing frames are capable of running both static and dynamic tests. These tests can produce more than just position, load or strain waveforms; why not choose energy, acceleration, or in fact any user-defined calculation? This diversity gives you the potential to replicate real life situations.
Simulation Testing of Keyboard
Testing Solutions
STM F1614 Impulse and Fatigue of Athletic Footwear Using Energy Control
Spring Simulation with the ElectroPuls
Materials
ElectroPulsing enables you to research material properties with full assurance in your results. The systems produces consistent data with excellent precision. Having the confidence that your specimen will be secure both before and during testing means you can concentrate on analyzing your test data. A variety of tests can be achieved on the ElectroPulsing including tension, compression, torsion, durability, fatigue, Dynamic Mechanical Analysis (DMA), fracture mechanics, and many more.
Measurement You Can Trust
ElectroPulsing provides you with phenomenal data accuracy. Coupled with Instron Dynacell for reduction of intertial errors and patented Stiffness Based Tunning,you have confidence in your system for hassle-free testing.
Fatigue Study of Elastomeric Material at Elevated Temperature
Smart Software
Instron's smart software GRANDETOP offers you the ability to focus more time on your valuable research and reduce post processing time by calculating standard or custom formulas within the software. Therefore the materials properties can be determined for you. This data can be viewed either while the test is running or in a document when the test is complete.
Engine Mount Testing
Universal
Grande delivers flexible and multi-user systems that will suit a variety of projects. Many of our customers require a system that will adapt to their test, eliminating the need to foresee exactly what their future requirements will be prior to purchase. ElectroPulsing offers configurable dynamic systems up to 10 kN capacity, including linear and linear-torsion variants, which allow for testing on an assortment of specimens. Just one single ElectroPulsing model can be used for all of your diverse requirements.
Static & Dynamic testing
ElectroPulsing isn't just a dynamic testing system. At the heart of the ElectroPulsing is a linear-drive electric motor which provides sufficient stroke for most monotonic tests. This combined with Instron's GRANDE static software makes it a truly universal testing instrument.
Fatigue Tests of Plastics using non-contacting extensometery